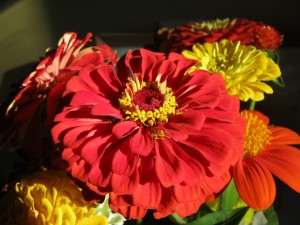 Having a car again after eight years of public transportation has provided all kinds of new experiences.  Recently, I needed to have the oil changed.  I returned to the shop where the work was done three months ago because that first visit was uneventful: quick, polite service, with competitive price.
My second visit was met with the attendant finding the information about my last visit and asking me if I wanted the same service. I was happy to not have to go over all the options again.  After the oil change was complete the manager informed me of a few maintenance issue for the car I should know about.  They were potential safety issues and he recommend a few other garages in the area that could help with those problems. I was glad to know about these issues and I thought they were sincerely concerned about me and the proper care of my vehicle. This little detail built a connection between me and the shop.
The manager than asked if I'd like to receive an email with these details and the information about the work they just did on my car.  He explained it is nice to have a digital record of the car's maintenance.  He also explained that they email coupons for discounts on service and reminders for my next scheduled oil change.  I agreed because I thought I could use a reminder!
The next day I received an email with the details of the work the shop did on my car and the notes about the issues they identified and should have looked at by another mechanic.  This was very useful information that I was glad to have.  I was concerned about getting a too many emails promoting their services, but I have not been bothered with useless promotions.This oil change service is part of a national chain and I am sure this electronic system is set up by a corporate office that has the means to develop a system for each shop to use.  Small business owner often do not have access to sophisticated developer to create a system like this, but there is something to be learned from how these chains are operating.
Customers, like myself, are appreciating and learning to expect these services.  All business need to look at what competitors are doing well and think about how these ideas can work for them.  Each owner knows their business better than anyone else and how they want to serve their customers, but the business climate is evolving.  To remain competitive all business need to find ways to reach out to customers and provide useful information and content they want.  Even small business can use the internet to connect with their customers and to make their services and products known to potential customers.
Start simple, but start.  And remain competitive!